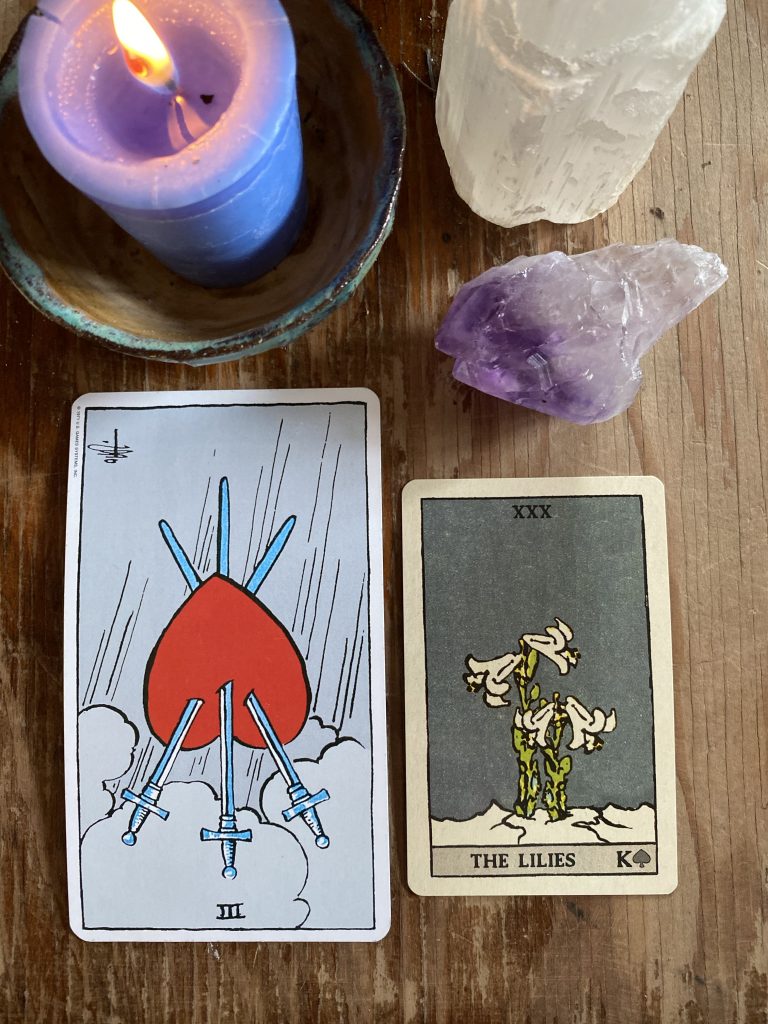 I am doing a daily Tarot draw asking the Spirit, what message do you have for the world today to help us manifest our highest good?
Message to the World
March 2nd, 2020
THE THREE OF SWORDS REVERSED – Tarot
THE LILIES – Lenormand
The Lilies Lenormand card can represent our parents or older people in our lives. They also speak of wisdom and of a significant passage of time.
Parenting is an imperfect art, and those who raised us were often lost and reactionary. We all carry wounds in our hearts, inflicted by the thoughtless words of our elders when we were young. We all have self-doubts, and self-sabotaging prejudices, that stem from our internalization of words or actions that struck at us when we were most impressionable.
Today, Spirit wants us to acknowledge these wounds. Meditate. Think about them with the wisdom of time passed. Write them down. Forgive.
These are old aches that we may have carried for the majority of our years.  These sharp, damaging, translations of our parents/elders' actions are ready to come free and heal. When we are cleansed of their shadow, our joy will brighten the world around us.
Today is a good day to start the process.
#dailytarotcard  #heartfelttarot #dailytarotreading #tarotreadingswithheather #threeofswordsreversedtarot #thelilieslenormand #hearthealing