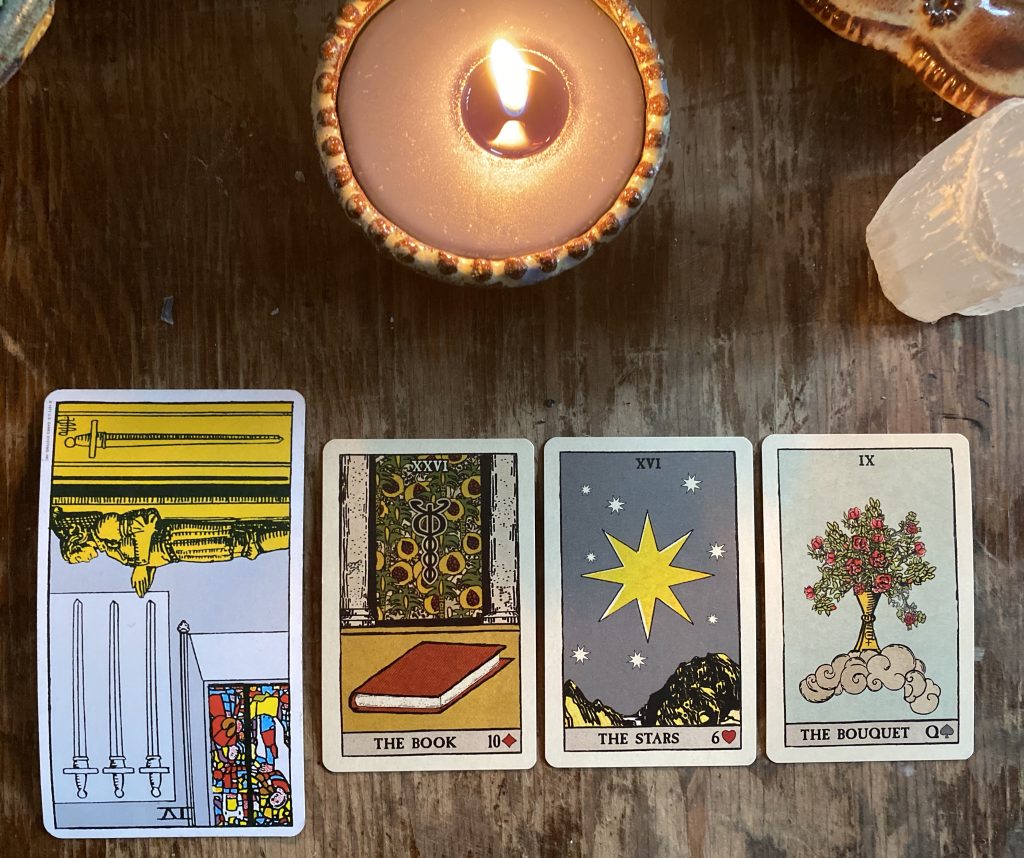 I am doing a daily Tarot draw asking Spirit, what message do you have for the world today to help us manifest our highest good?
Message to the World
April 2nd, 2020
FOUR OF SWORDS REVERSED – Tarot
THE BOOK + THE STARS + THE BOUQUET – Lenormand
Swords are the suit of air, representing communication, intellect, learned prejudices, and beliefs. The FOUR OF SWORDS reversed could be referring to a forced rest or inaction, one where we are asked to ponder our unique viewpoints.
THE BOOK Lenormand can represent learning, knowledge, THE STARS Lenormand, hopes and wishes, and THE BOUQUET gifts and beauty.
Our message today is to take advantage of this forced inaction, the mandated suspension of our daily routines that sheltering-in-place has imposed. This time, pruned of the clutter of external expectations, might be the perfect opportunity to really sink into our values, what we believe, what our truths are. We could look at this moment as a gift, allowing us to really assess what we value, what our genuine hopes and aspirations are, and giving us the headspace to really focus on those. When the external world is falling apart around us, what becomes truly important?
Visualization is an essential part of manifestation. These days of self-discovery will assist us in recognizing and achieving what our soul holds dear.