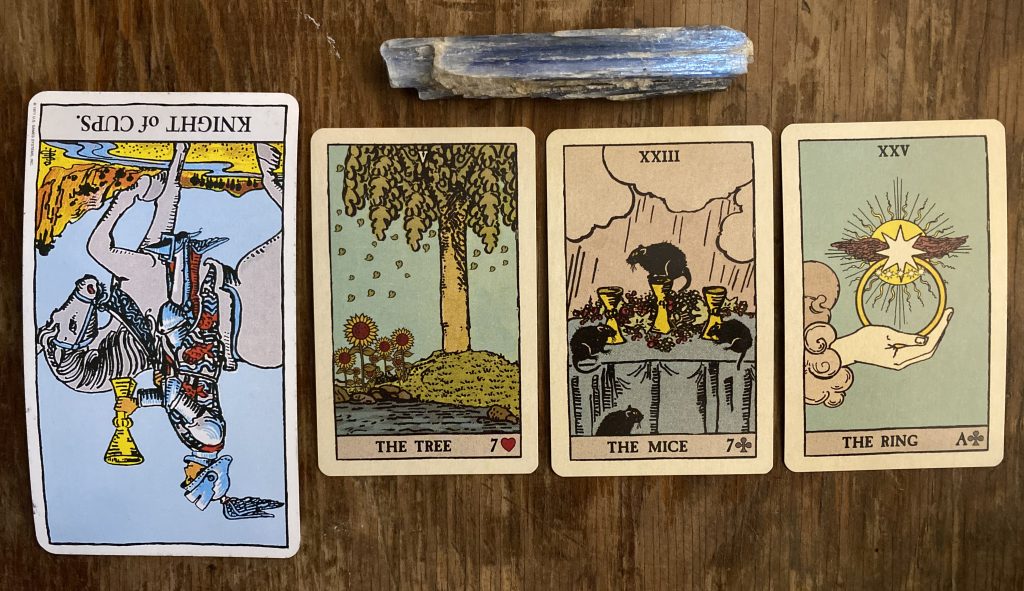 I asked Spirit what message do you have for the world today to guide us towards our highest good?
Message to the World
May 15th, 2020 (15 Devil, 06 The Lovers)
KNIGHT OF CUPS REVERSED – Tarot
THE TREE + THE MICE + THE RING – Lenormand
In our enthusiasm to leave our homes, and our longing for normal behaviors, are we turning our backs on those among us who suffer from chronic health issues? Venture out, yes. Step outside the confines of sheltering-in-place with glee, but not with foolish glee. We mustn't get careless and drop our guards.
It is so easy to forget when the killer is invisible. Wearing a mask and gloves are not second nature to many of us. However, for the love of those among us who are most vulnerable to the fatal side effects of the COVID19 virus, I feel that Spirit urges us with these cards to remain careful. Maybe we can don our protective gear with intention while sending a love blessing to all those in this world who we guard, nurture, show love for, even if we have never met them.
Today's numerological cards are THE DEVIL and THE LOVERS. This lends extra caution not to let our lust for pleasures blind us from making choices centered in the Highest Good.
Let's turn that Knight of Cups around and offer that chalice to those anxious individuals suffering from chronic health issues.