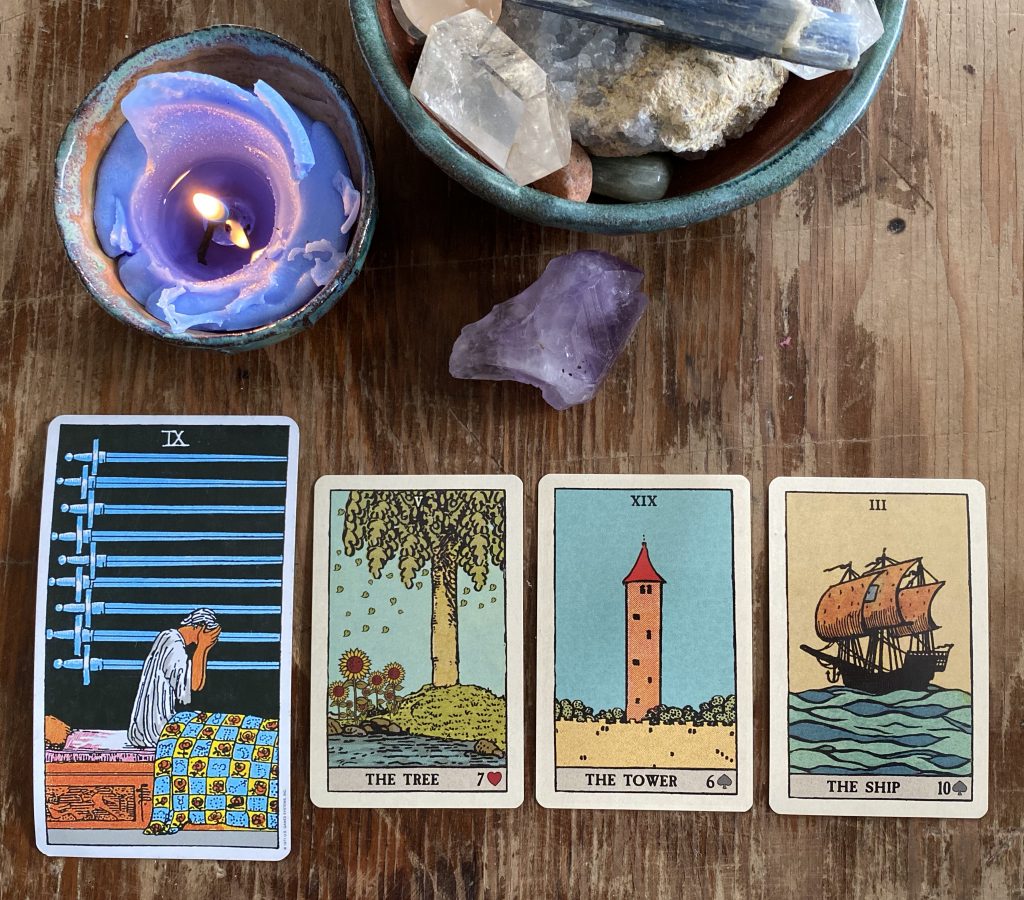 I am doing a daily Tarot draw asking Spirit, what message do you have for the world today to help us manifest our highest good?
Message to the World
March 24th, 2020
THE NINE OF SWORDS – Tarot
THE TREE + THE TOWER + THE SHIP – Lenormand
The Nine of Swords clearly illustrates our collective anxiety today with the spread of the coronavirus, and more local governments asking us to stay home and shutting down businesses.
The Tree Lenormand stands for health, the Tower Lenormand isolation, and feelings of being trapped. The Ship Lenormand card can symbolize something coming from overseas, commerce, or even illness.
The Lenormand clarifiers describe everything panicking me right now: our health, being shut-in, and the spread of the coronavirus and fate of the global economy.
Today's message from Spirit is an acknowledgment of what we are feeling, and, with the Tower Lenormand's central position, a reinforcement that staying home is the right thing to do.
Swords are the suit of air, of thoughts, of communication. The Nine of Swords shows deep anxiety, but it also reminds us that our fears stem from our thoughts. We can control our thinking. We can choose to focus on topics that don't alarm us.
Today might be a good day to resist looking at the news, to put our phones and social media away, and to focus, instead, on envisioning the world that we would like to create once this panic is passed.
#dailytarotcards #heartfelttarot #dailytarotreading #tarotreadingswithheather #tarotguidance #messagefromspirit #tarotlenormand #spiritmessagetotheworld #nineofswordstarot #thetreelenormand #thetowerlenormand #theshiplenormand