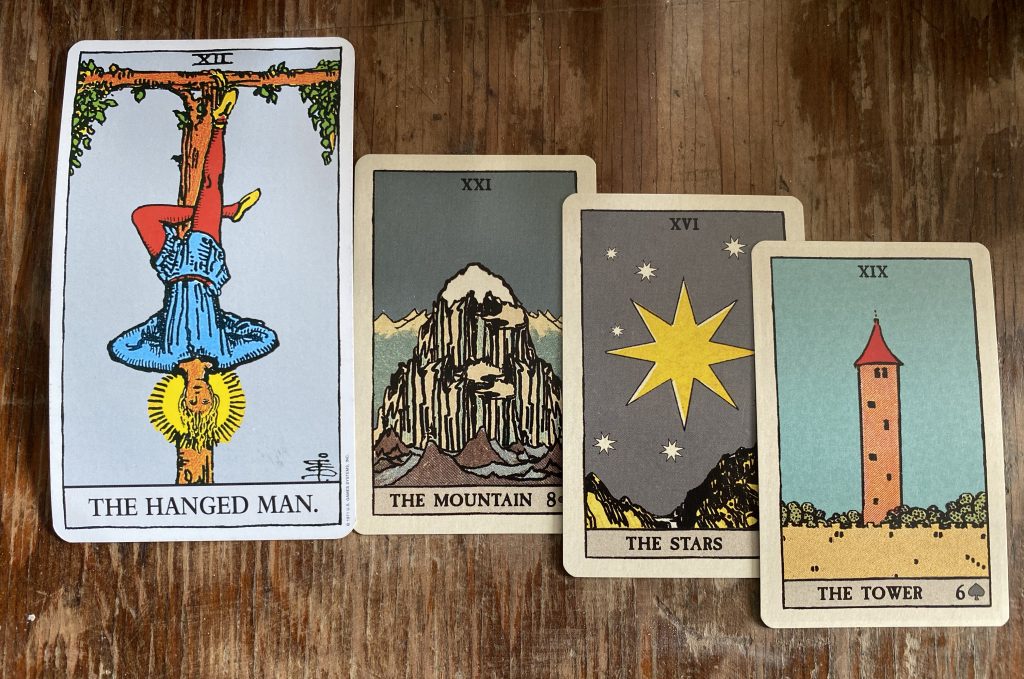 I am doing a daily Tarot draw asking the Spirit, what message do you have for the world today to help us manifest our highest good?
Message to the World
March 10th, 2020
THE HANGED MAN – Tarot
First draw:
THE MOUNTAIN – Lenormand
THE STARS + THE TOWER – Lenormand
Second draw:
THE DOG – Lenormand
THE LILIES – Lenormand
The Stars and the Tower fell out together – I see this pair as representing the internet. The Tower could be the "server towers," which host and serve all of our online content, and the Stars are all of the sparks of connectivity.
When I first saw the Lenormand grouping, I was perplexed. There are a lot of different interpretations possible, so I did the Lenormand drawing again and pulled the Dog and the Lilies.
Our message today is to heed the warning/challenges (the Mountain) that the internet and social media are talking about, and stay put. Stay isolated (the Tower). Change plans, change perspectives, hang out. Suspend your travel plans.
The second draw could be emphasizing that this is particularly important for your elderly loved ones. (the Dog + the Lilies).
The Dog can also represent your best friend, soulmate, romantic partner, and the Lilies sometimes symbolize sexuality. So… if you are isolating at home, in limbo, with your spouse or lover, you may want to rekindle that physical love connection.
#dailytarotcard #heartfelttarot #dailytarotreading #tarotreadingswithheather #hangedmantarot #themountainlenormand #thestarslenormand #thetowerlenormand #thedoglenormand #thelilieslenormand