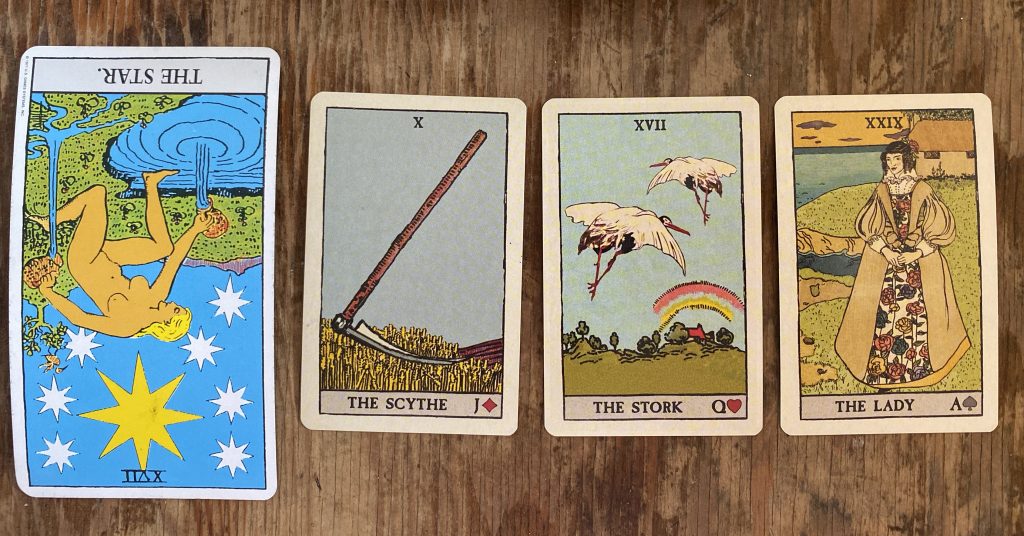 I asked Spirit what message do you have for the world today to guide us towards our highest good?
Message to the World
May 7st, 2020 (16 The Tower, 07 The Chariot)
THE STAR REVERSED – Tarot
THE SCYTHE + THE STORKS + THE LADY – Lenormand
I was looking at the Tarot Tableau by Thomas of the Hermit's Mirror, and for the House of The Star, he prompts: How can I maintain hope in the face of uncertainty?
We've tumbled from the Tower, our routines and assumptions are in shambles. Life is uncertain. How can we maintain hope? The Star card asks us to open up to Spirit's guidance, open up our intuition, be receptive to Divine guidance.
The Lenormand clarifier cards speak of making a transformative decision that has us tapping into our feminine qualities, qualities that are more flexible, adaptable, mutable, giving, collaborative, and nurturing.
Perhaps we need to surrender to the currents of uncertainty instead of fighting them, and see what we find when we mindfully navigate them as a team, helping each other. Perhaps we should take steps to nurture mother earth as well. Acting for the highest good, and witnessing kindness and service in others, renews hope. Where there is love, there is hope. When we take constructive action and empower ourselves, we have hope.