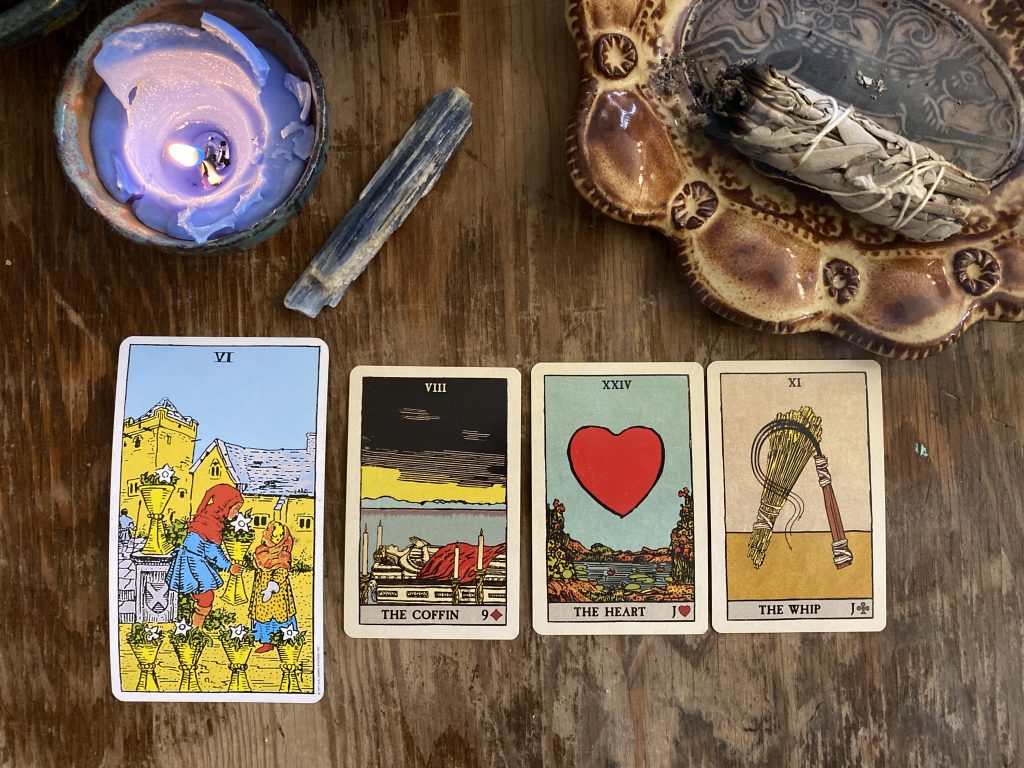 I am doing a daily Tarot draw asking Spirit, what message do you have for the world today to help us manifest our highest good?
Message to the World
March 27th, 2020
SIX OF CUPS – Tarot
THE COFFIN+ THE HEART + THE WHIP – Lenormand
The Coffin: death/transition/endings
The Heart: people, passions, what we love
The Whip: debate, arguments, sweeping out, repetitive and vigorous activities
Cups are the suit of water and represent emotions, intuition, empathy. The Six of Cups is often seen as symbolizing our childhood memories and nostalgia.
To me, the Six of Cups also represents the joy of sharing beauty, miracles, nature. Two children, dressed for cold weather, are surrounded by cups of blooming, fragrant flowers – blossoming despite the season. The girl has joyfully passed her cup to a taller youth who is inhaling the fragrance before handing it back. It is about giving, sharing an experience, without any expectation of monetary rewards.
Today's message, I feel, addresses both of these meanings. In the background of government debates about how to curtail, or whether to restrict this pandemic, we are going to start seeing people that we love fall ill, and even die. Those individuals who are the cornerstones of our childhood memories may be the most vulnerable to this virus.
The Whip illustrates both the arguments that are happening around actions to take and the vigilance that we need to adopt and practice consistently, to protect ourselves and our community.
The Six of Cups references our childhood but also asks us to share miracles and moments of beauty today, and in the days to come. Give gestures and words of kindness, encourage, and share what uplifts you. Give without asking for anything in return.
Today, we need to counter-balance negativity through positive intentions. Also, reach out to those individuals from your childhood who give structure to your memories. Let them know that you are thinking of them and reminisce with them about those moments that make you nostalgic. Who knows, a heartfelt connection might boost their immune system.
#dailytarotcards #heartfelttarot #dailytarotreading #tarotreadingswithheather #tarotguidance #messagefromspirit #tarotlenormand #spiritmessagetotheworld #sixofcupstarot #thecoffinlenormand #theheartlenormand #thewhiplenormand