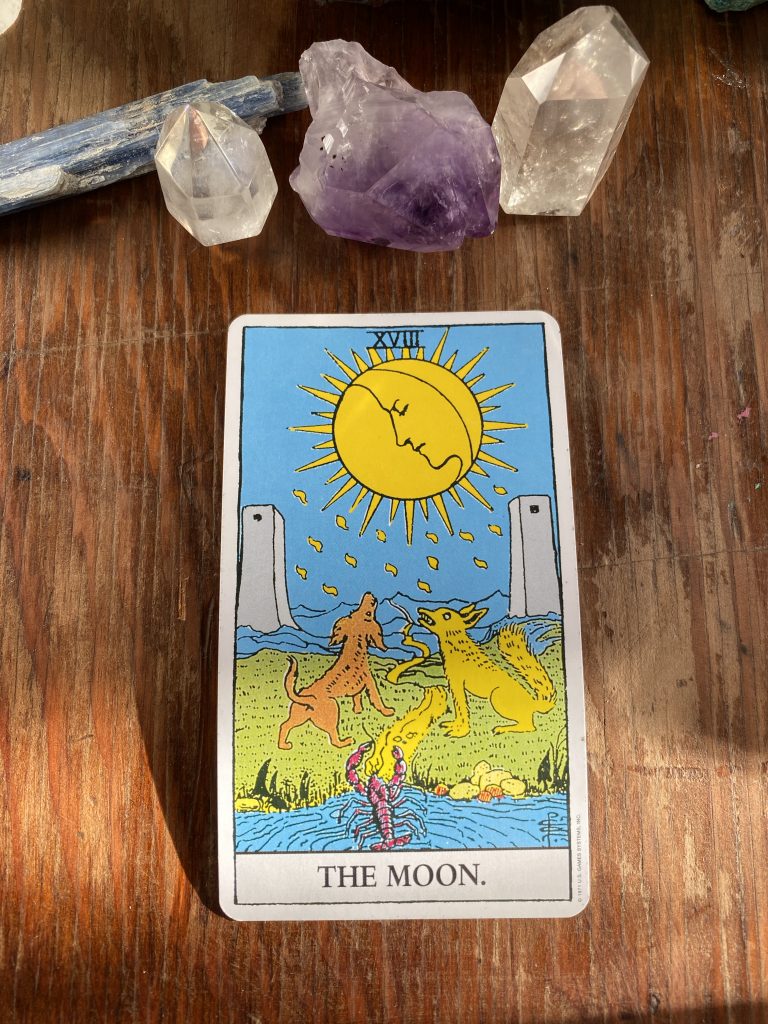 I am doing a daily Tarot draw asking the Spirit, what message do you have for the world for us to manifest our highest good?
Message to the World
January 5th, 2020
THE MOON
The Moon is the Major Arcana card of intuition, of hidden elements, of deception or self-deception, even.
The pool of water in the foreground represents our subconscious. A path leads into the distance. On either side of it, a wolf and a dog face each other. They represent the tamed versus the wild and instinctual aspects of ourselves. The path also runs between two towers. Some sources say that the towers represent good and evil. They look identical, however, and this symbolizes how difficult it is, sometimes to tell the difference between right and wrong.
A crawfish crawls from the pool, telling us that hidden information needs to be revealed.
This card might be telling us not to believe everything that we see and hear. When observing events that unfold around us, both globally and locally, we need to listen with our hearts and to focus the gaze of our intuition. This warns us not to trust our ears and eyes and hearsay alone.
On a personal level, this card might be warning us that we have currents in our subconscious that are influencing – exaggerating, pulling our perceptions off-kilter today, and to take a moment to calm ourselves and center before acting or speaking rashly.