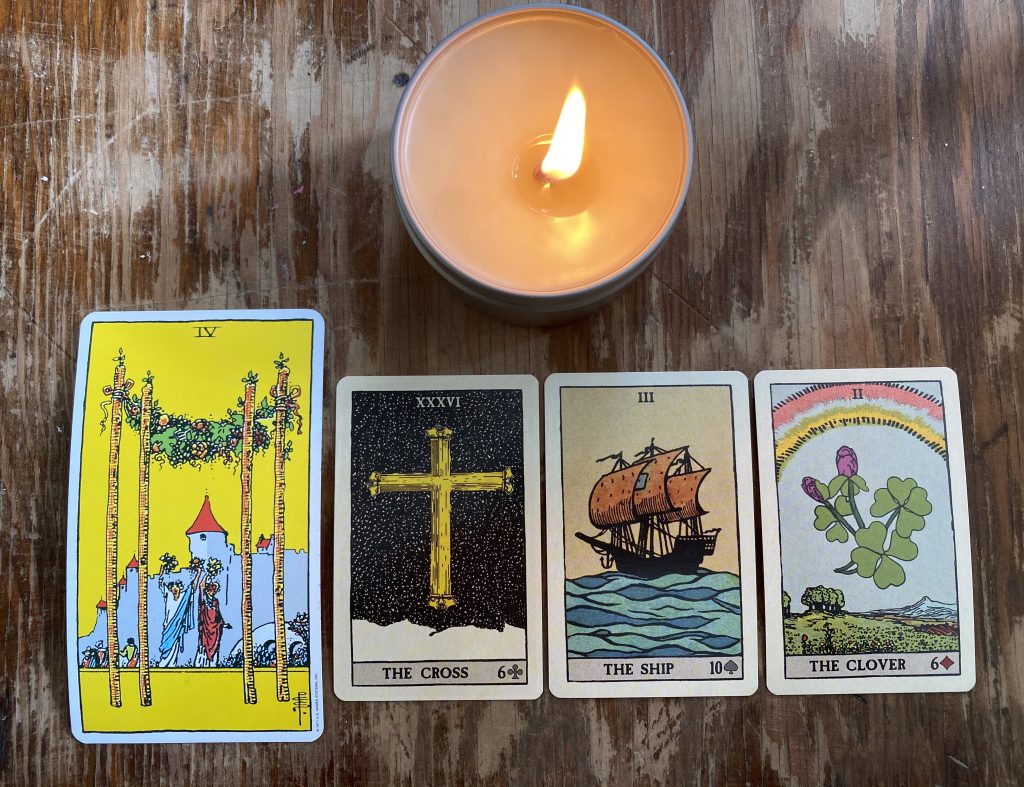 I am doing a daily Tarot draw asking Spirit, what message do you have for the world today to help us manifest our highest good?
Message to the World
March 16th, 2020
THE FOUR OF WANDS – Tarot
THE CROSS + THE SHIP + THE CLOVER – Lenormand
The Four of Wands is a card celebrating homecomings. The joy of being with our village and family in celebration.
The Cross Lenormand can symbolize burdens and heartaches. The Ship Lenormand represents something that is coming from overseas, a person, commerce, a virus. The Clover Lenormand card is seen as a card of transient luck and good fortune – not hit the 100 million dollar lottery ticket luck, but rather the $10 scratch ticket luck that allows you to buy lunch. The luck that causes the sky to clear for the length of the little league game. The luck that gives you time at home with your family.
This week we are being called back to our homes and home towns from places far away, schools, study abroad, travel, work. The message today is to look for the good fortunes resulting from this forced homecoming as opposed to the burdens. There is always a blessing. If we focus on gratitude instead of the inconveniences, the joy of the Four of Wands will manifest for us.
If we live alone and far from our home village, there are ways of reaching out to family and friends afar, to bring them into our dwellings: Facetime, Facebook, WhatsApp, to name a few.
There is a musician couple on the island where I live who have started streaming live videos from their living room to the community. They call it #SocialDistanceSing, and they take requests and sing for you. They are @workmansong and @si.may0. This talented duo will be streaming live on Youtube for St. Patricks Eve at 7:30 EST, so check out their feeds for details.
Look for the luck, and it will appear.
#dailytarotcards #heartfelttarot #dailytarotreading #tarotreadingswithheather #tarotguidance #messagefromspirit #tarotlenormand #spiritmessagetotheworld #fourofwandstarot #thecrosslenormand #theshiplenormand #thecloverlenormand