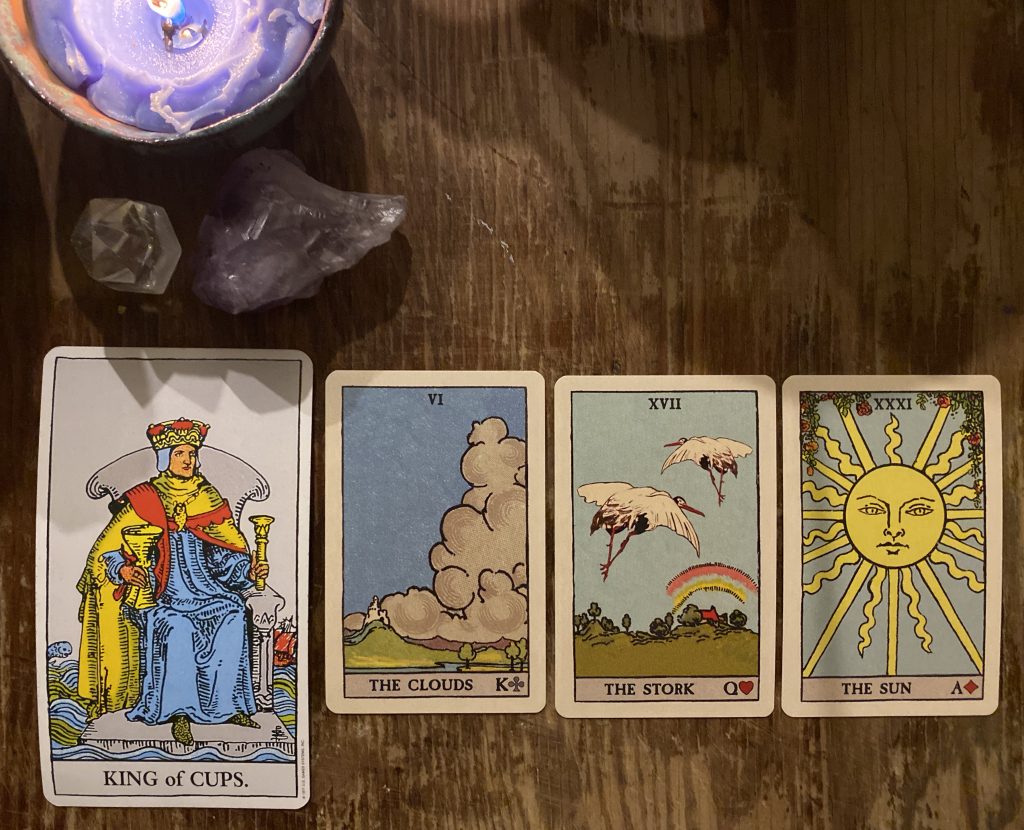 I am doing a daily Tarot draw asking Spirit, what message do you have for the world today to help us manifest our highest good?
Message to the World
March 26th, 2020
KING OF CUPS – Tarot
THE CLOUDS + THE STORK + THE SUN – Lenormand
The King of Cups suggests a need to moderate our emotions. Try not to let our feelings and anxieties drown us. Let our feelings supplement our actions, not decide them.
The Lenormand clarification cards are reassuring us that although today this change that we are all going through is clouded, unknown, in the end, the sun will breakthrough. The Stork is moving from clouds to sun, from confusion to clarity. The Sun Lenormand card is generally positive and represents a successful conclusion.
Our message today is to not let our emotions capsize us. Today is full of uncertainty; however, soon, we will see our path clearly. We are going through a transition, but all the while, moving from uncertainly towards clarity. These cards are telling us to hang in there and don't fall apart. We will get through the obstacles that we face.
#dailytarotcards #heartfelttarot #dailytarotreading #tarotreadingswithheather #tarotguidance #messagefromspirit #tarotlenormand #spiritmessagetotheworld #kingofcupstarot #thecloudslenormand #thestorklenormand #thesunlenormand